It's my favorite time of the year: Girl Scout cookie season. This time of year brings back memories from years ago when I too donned the iconic green Girl Scout vest, adorned with badges. Whether they greeted you with their cheery smiles at Appel, RPCC, or somewhere else around campus where they've set up shop, it's hard to resist the pull of these iconic sweet treats.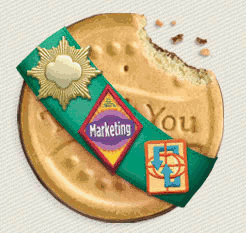 1
For when you want to reward yourself:
Samoas
These are the quintessential classics for indulging your every desire. When you've had a long day, need to kick up your feet, and binge the latest Netflix show, don't forget your box of Samoas. The coconut-caramel goodness perfected by that gorgeous chocolatey drizzle is the perfect treat for nearly any occasion. Reward yourself for simply making it through another day – that's a triumph in itself.
2
For when you want to eat a whole box in a sitting:
Thin Mints
Crisp, refreshing, and smothered with chocolate, you can down these cookies in one sitting. Thinner and lighter than the other cookies, they are deceptively delicious. You'll reach into the box, and a couple minutes later find you've reached the bottom in no time. Pro tip: Thin Mints are amazing when frozen! So stock up on some extra boxes.
3
For when you NEED indulgence:
Tagalongs
Creamy peanut butter drowned in rich chocolate – doesn't that sound like heaven? (unless you're allergic, in which case I am sorry you've never been able to enjoy this wonderful treat either!). Tagalongs are for those days when you need to focus on yourself. Whether you're curled up in a blanket or soaking up the rare Ithaca sunshine, these indulgent delicacies are bound to meet your every need.
4
For when you want to lead the simple, but good life:
Trefoils
Shortbread classics that aren't too extra, but always will fill your soul. Trefoils are for those days when you want to enjoy the little things in life. Butter, sugar, flour – all the bases are covered by these melt-in-your-mouth biscuits. Plus they always remind me of grandmothers and tea time.
5
For when Tagalongs run out:
Dosidos
These are what my roommate calls 'fake Tagalongs'. All the peanut buttery goodness, but none of the chocolate indulgence. Nonetheless they are a delectable treat; they're just the ones you reach for once you see that you've emptied out all the boxes of Tagalongs.
6
For when you decide to go vegan/gluten free:
Toffee-Tastic
Once upon a time, these were the decadent Dulce de Leche cookies, but it's fallen-angel counterpart Toffee-Tastic has taken over. Although not as good as they used to be, these cookies are gluten-free, making them the perfect option for when you're trying out that 'healthy' lifestyle. But, they're still GS cookies, so ask yourself: how healthy am I really being?