Who said movies never taught you anything? Not me! And especially not the seven-year-old who saved her mother's life this week by successfully performing the Heimlich maneuver, which she learned from watching Mrs. Doubtfire (1993).
Mrs. Doubtfire is a study in phenomenal comedy, with an illustrious cast to bring it to life. Daniel and Miranda Hillard (Robin Williams and Sally Field respectively) are in the middle of a divorce because of Daniel's recent job loss and supposed immaturity as a voice actor. Because of his instability, a judge grants Miranda full temporary custody of their three children, a situation Daniel simply can't live with. While Daniel struggles with once-a-week visits, Miranda struggles with obtaining childcare. So Daniel enlists the help of his brother (Harvey Fierstein), a makeup artist, to turn him into Euphegenia Doubtfire, an elderly and strict babysitter/housekeeper. Doubtfire shines in comparison to the other applicants Miranda has interviewed when she/he applies to be his own kids' babysitter, unbeknownst to anyone. He lands the gig and enjoys the trials of parenting all over again as a woman, turning kitchen fires into full-body hot flashes and vacuuming into a scene straight out of Risky Business (1983). But when two of Daniel's kids find out he's the man behind the mask, and he has to be at a job interview and on the job as Mrs. Doubtfire at the same time, the whole scheme may just go awry.
The script for this movie is nothing short of genius, if a little neat and packaged as far as dramedies go. Robin Williams has never been funnier, delivering perfect one-liners with equal measures of heartfelt heartbreak. Sally Field is a little bent out of shape, playing a more severe character than we've seen in her other roles as Forrest Gump's (1994) mom who advises him on the points of comparison between life and a box of chocolates, or in her role as overbearing but well-intentioned matriarch in Brothers and Sisters (2006-2011). The kids, while not given anything really noteworthy as far as dialogue goes, carry their roles much better than some child-actors of today. Mara Wilson, the wonderful title character of Matilda (1996) makes a film appearance as the youngest of the children, in what is one of her unfortunately few movie roles. And of course who doesn't like at least looking at Pierce Brosnan, a former Bond man, even if he is Mrs. Doubtfire's arch-enemy?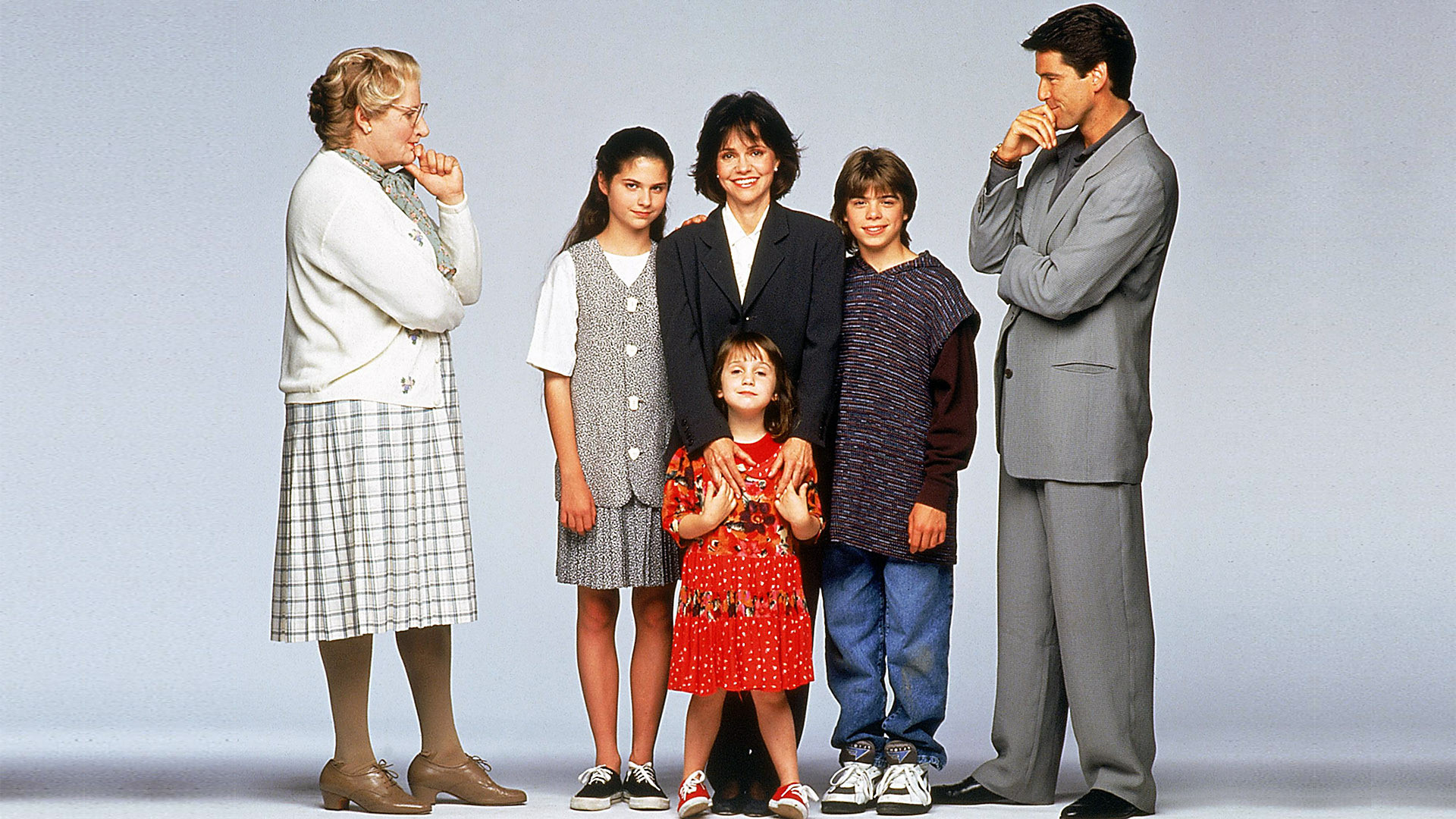 Where some might find this movie too saccharine sweet is in the more obvious plot points. We assume given the arc of a movie that Daniel will eventually have to be found out, his ex-wife will predictably be pissed but endeared, and they will come to some kind of mutual agreement about the custody of their children. I'm not spoiling anything by saying they don't get back together, so at least there the movie succeeds in maintaining some originality (although the whole farce is based off a book, not helping my case of lament against a lack of originality in the film industry today). However the last scene of the movie holds a nice surprise that is sure to strike a chord, even if it is a little too convenient.
The movie did win an Oscar for best makeup, and you'll definitely see why. It's truly a masterful work if not for its plot then definitely for its acting and dialogue. And if you don't learn anything about the finer points of film, maybe you'll at least pick up some tips about how to save someone from choking. Or from setting themself on fire. Or really from any myriad of comedic tragedies the movie presents. Happy watching!